What Do You Get With This Course?

Dude, didn't you read the course curriculum? Just kidding. This section gives us a chance to dive into more detail about what the course contains.

1. The Foundational Physique Routine
Some people want to be told exactly what to do so they have no doubts. They don't want to have to think about, learn about, or decide anything. They want a simple plan that they can go out, execute, and achieve immediate results. I completely understand.
That's why at the core of this course is The Foundational Physique Routine. This is an effective and efficient 3-days per week strength training program you can start following today. It includes my favorite physique-focused exercises, specific set and rep schemes, and has detailed prescriptions for every other training variable.
This is the program I've personally followed for the last few years in preparing for several professional fitness photo shoots and a physique competition WHILE growing my business and creating this course (which has been a time-consuming pain in the ass, so I do hope you purchase it).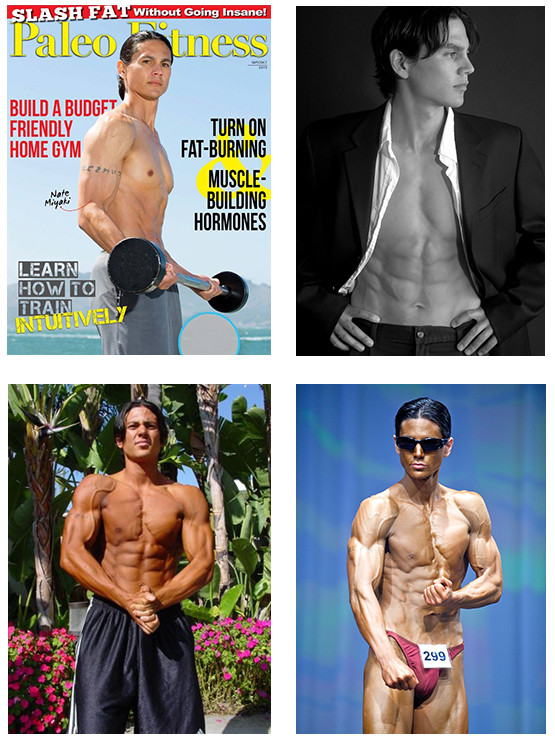 In other words, I'm a busy dude just like you trying to stay in great shape. And if you put a gun to my head and demanded that I shared the secrets that have helped me do that...
First, I'd shit my pants.
Second, I'd set you up with this program as a suggested starting point. A PDF of the program is included, so you can print it out and take it with you to the gym, or follow along on your tablet or phone.
2. Additional Training Templates
As you gain more experience in the gym, knowledge in the field, and understanding of how your body develops and responds to various training stimuli, intermediate and advanced athletes often need a little more freedom and flexibility to customize their program, and to adjust it based on their individual situation and goals. So I've provided some additional program templates including:
2-Day Beginner & Busy Professional Full Body Template
3-Day Push-Pull Template
3-Day Push-Pull + Priority Body Part Training Template
4-Day Torso-Limbs Split
I'll go through each workout template with you, help you set-up an optimized training schedule, and show you how to test out, assess, and ultimately select the specific exercises that work best for you. I'll also explain why my clients and I use a variety of templates at different times throughout the year vs. a single, static program. And I'll show you how you can do the same.
Instead of a 90-Day cookie cutter plan, you'll have a comprehensive physique-focused program with a variety of plans that you can use and rotate throughout the year based on fluctuating personal situations, career or school demands, and training goals.
3. Exercise Library & Video Demonstrations
It is one thing to just talk about exercises or show you static pictures. But we include video exercise demonstrations from multiple camera angles so you can see the movements in action. These are in mobile-friendly formats, so you can follow along on your tablet or smart phone.
Instead of overloading you with long-winded explanations of technique (that no one ever remembers), I'll give you some key coaching cues in bullet point format to help ensure proper exercise form. This is exactly what I do in the gym with my private clients.
We'll also go through the exercise list and explain why I choose certain movements in my physique-focused programs, and avoid others (biomechanics and targeted muscle activation, common muscle imbalances, risk-reward factors).
4. In-Depth Lessons on Targeted Training Strategies
We cover everything you need to get set-up with a targeted, specific, and efficient physique transformation program:
Body Part & Total Training Frequency
Muscular & Systemic Recovery Factors
Exercise Selection Strategies
Training Splits
Sets, Reps, & Total Training Volume
Inter-set rests
Physique Technique & Training Tempos
Training intensity & The Reps-to-Failure Scale
The Multiple Physiological Pathways of Muscle Growth
Muscle Tension & Metabolic Stress Sets
And more…
You'll learn the technical reasons behind why some of the popular training approaches and trends in the gyms and magazines are not necessarily ideal for physique transformation. You'll start to understand why some of your exercise attempts and fitness programs may have failed you in the past -- not necessarily from a lack of effort, but more from a lack of proper programming. And you'll see why you need to get on a more structured and detailed plan in order to finally succeed with your physique transformation dreams.
We go through each lesson together with whiteboard videos and screencasts, just as I would be teaching it at a training seminar, or in person to a private client.
5. Accompanying PDF's of Each Lesson
This isn't some flimsy ebook full of useless fluff. With the individual lessons combined, the PDF content essentially amounts to a textbook on physique training information. Based on how much you actually want to learn about this topic, you can skim it or dive deeply into it as you see fit.
Each PDF lesson includes:

(A) The Strategy Summary
We start with the barebones details of the training plan right off the bat. This is the nuts and bolts, simple and straightforward, "what to do" of each program detail.
(B) The "Why" Behind The Strategy in Bullet Points
We cover the theory behind each strategy in bullet points for quicker reading, better information absorption, and to cut down on the unnecessary blabber.
I get that most people just want to know what to do. But here's the thing, what I've found is that if you take just a little bit of time to learn "the why" behind "the what" you are doing, you are much more likely to stick to that plan and ultimately see things through to the end.
A little knowledge leads to a lot of confidence. Confidence leads to consistent action. And consistent action is the only thing that will carry you all the way through to your end goal.
The alternative in our A.D.D., scatterbrained, social media-driven world is that without a baseline level of knowledge and understanding, people are easily duped by clever marketing material, health and fitness trends, the shiny new toy syndrome, and their own irrational emotions. They are easily led astray from the most effective, efficient, and proven program parameters, and they end up hopping around from program to program with no results to show for it.
(C) Supporting Research & Resources
Someone with great genetics can train any way they want to and will look great. I have a friend who looks like a bodybuilder and all he does is yoga twice a week, and eats doughnuts twice a day.
Someone using physique-enhancing drugs can train any way they want to and look great. The drugs can make up for the shortcomings of mismatched or misinformed protocols.
Unfortunately, these are also the types of people that get paid to endorse specific products, programs, or systems. It's confusing, and often times misleading, to the consumer.
Sorry to burst your bubble, but chances are that randomness will NOT work for you.
Why? Most of us are doing it naturally. And most of us have average genetics. Hell, I have shitty, skinny-fat genetics. My mom was 95lbs and my dad looked a little like the Japanese Ron Burgundy.
And if you have average-to-poor genetics, you have to base the bulk of your program on scientific principles if you expect to achieve any results. You can't just blindly and naively follow infomercial programs, magazine articles, Instagram model profiles, or take the advice of a trainer or gym rat just because he looks good (including me, and I look phenomenal, haha just kidding).
You need to take a more unbiased, objective, informed, and analytical approach.
Listen, I understand we all have our own biases regarding the optimal way to train. Talk to ten different people and you'll get ten different answers. Many have accumulated training information from various sources and come from a variety of different backgrounds and personal experiences. That's cool. Everyone has his or her opinion.
But that's also why you can't just rely on opinions. You must also rely on the available research that's out there as an objective and unbiased starting point.
As you'll learn in this course, there are clear distinctions on optimal training parameters based on different goals. And there is a scientific foundation behind that. There is a principle in exercise physiology called the SAID principle -- Specific Adaptation to Imposed Demands. When you drop the geek speak, all this really means is that your body adapts to the specific training that you do.
So there is a scientific way to train for power and strength. There is a scientific way to train for endurance. This is well understood and applied in professional athletics and performance sports.
There is also a scientific way to train for building muscle and changing the visual appearance of your body. Unfortunately, this is less understood and applied in the physique realm. It seems as if someone's goal is to lose fat, build muscle, and look awesome, people just take a shotgun blast approach and do a bunch of random shit in the gym, with no structured plan.
That's also why physique transformation success rates suck, and so few are walking around with a 6-pack.
But there IS a science to cosmetic-based, physique transformation training. That's what this course will teach you. There are reasons why you should set up your training program a certain way. It is based on principles from the Exercise Physiology, Kinesiology, and Biomechanics fields.
To give yourself the best shot at succeeding, I believe you should use these principles to design your initial approach, and to give yourself an informed starting point. Only after this should you layer in anecdotal evidence from practical experience. So I want you to see that these training strategies are based off of the relevant research that's out there in the physique-focused fitness field.
And if you are a real nerd with no life like me, I include my favorite resources (links to research studies and additional articles from some of my favorite researchers, authors, and coaches) so you can dive as deep as you want into any, or every single topic.
6. Advanced Program Customization Strategies
Do you want to know a secret about myself, some of my physique friends, private clients, the testimonials above, and the rest of the people I work with?
None of us are following the exact same routine.
That's right. Although the broad parameters of our programs all fall under the research-based principles optimized for physique transformation, the exact set and rep schemes, exercise choices, training frequency, total training volume, etc. are all different based on our individual body type, exercise history, injury history, neuromuscular efficiency, body structure, alignment and muscle imbalances, psychological factors, the specific training phase that we are in, lifestyle factors outside of the gym, and just good ol' personal preferences.
Most athletes and novice coaches just tell their clients to follow what they prefer, or what has worked for them personally. They don't truly understand the need for, and subtleties of program customization.
Do you need to spend thousands of dollars working with a private coach or trainer to customize your program? Well, that's what I believe is the true value of this course.
I'm not just going to leave you with a 12-Week plan that you normally see in magazine articles or flimsy e-books. This course takes a more comprehensive approach, and teaches you how you can test, assess, and adjust the different program variables based on personal progress and feedback. This will ultimately help you find what works best for you. That's how you optimize your plan and maximize your genetic potential.
Essentially, I want to put my main business out of business, and teach you how to become your own coach. You're going to walk away with a variety of strategies that you can use and rotate throughout the year based on your specific situation.