To some degree, we're all trying to build some lean muscle, slash a little fat, and look awesome with our shirts off, pants off, or walking around naked.
And please, don't bullshit me or yourself by saying you only care about health, function, or performance goals. Yeah, you might want all of that. But you also want to look good too. I'm talking Ron Burgundy-style where he is confident enough to shout out, "Hey everyone, come and see how really good I look."
THE BIG FAT LOSS & PHYSIQUE TRANSFORMATION PROBLEM
Diet Success Rates Suck
If you are checking out what this course has to offer, chances are you already recognize the importance of optimizing your nutrition program in order to attain your physique goals, and maximize your genetic potential.
Congrats! You're giant step ahead of most in the physique transformation game. Most people hit the road or the gym and try to out-train poor dietary habits. And most are fighting a battle they are never going to win…
The next fat loss hurdle you'll have to face is where to turn to for high quality nutrition information? There's a lot of bullshit in the diet and fitness industry that you'll have to sift through.
And even the well-intentioned programs aren't really all that effective. The tough love truth is that fat loss and physique transformation success rates suck. They barely stand at a sickly 2-10%, depending on the studies and statistics you use.
Talk about stubborn fat!!
Keep in mind, "success" is defined as the ability to lose body fat AND keep it off for more than a year. Crash diets and extreme plans that yield some short-term results but can't be sustained, are followed by bingeing rebounds, and then a constant cycle of yo-yo-ing up and down in weight do NOT count.
Neither do on-season plans (where you are lean one weekend every third year) alternated with off-seasons where you are bulking up (fat) the rest of it, even if it's within the fitness, athletic, or physique realm.
We have a billion-dollar diet industry, but virtually no real and lasting results to show for it. Why is that?
There are a ton of nutrition and diet books, e-books, courses, and programs out there. Perhaps you've tried a few – Paleo, Vegan, Keto, the latest Detox, low-carb, low-fat, whole foods, calorie counting, following a fitness celebrity or Instagram model's plan, etc. -- and have been disappointed with the results.
I don't say this just to be a dick. I've made many of the same mistakes myself in the past. And it wasn't until I got on a more targeted, research-based, strategic, and efficient path that I finally broke through.
NATE MIYAKI BEFORE/AFTER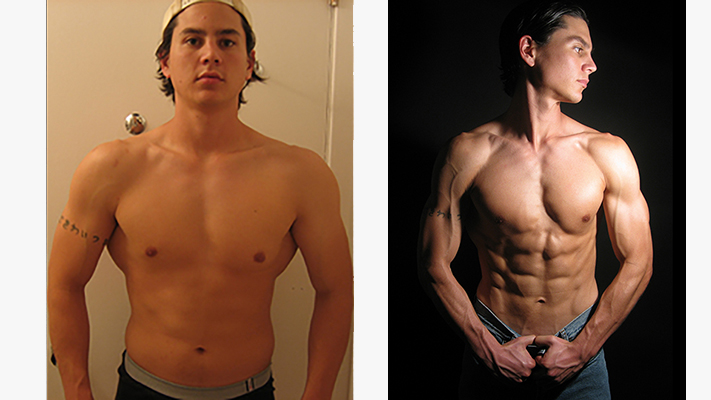 I truly want to help you do the same because sadly, I know just how much of a priority and obsession it can become.
Lack of Specificity
The #1 problem in our industry is a lack of diet specificity and targeted strategy. The trend is the exact opposite = to just slot everyone into one singular diet system and proclaim it's the best for everyone, everywhere.
That's great for building a celebrity, athlete, coach, or author's brand; as well as selling mass books/products, but it's not so great for YOU to get real-world, personal results.
You've probably heard some version of this: "cut out A & B, and only eat C & D", "I'm a X eater", or "I follow Y diet", and that is the only way to eat regardless of body type, activity levels, current health status, metabolic condition, and physique or performance goals. All other approaches are wrong and worthless.
It doesn't work that way, at least off the blog and social media screens, out here in the real Fat Loss Streets. This inability to see the bigger nutrition picture generally happens because of a few different reasons:
1. Someone personally achieved great results on a particular plan – dramatic weight loss, improvements in overall health and wellness, or some type of athletic achievement. As a result, they are passionate about sharing that approach with others.
2. Someone's personal identity has become tied to the associated lifestyle or community aspects of a particular diet.
3. Someone's job or revenue stream is tied to a particular diet approach, and is trying to sell you something associated with it – a system, a lifestyle, a supplement, etc.
The result is that a large portion of the diet industry has lost the principle of specificity -- appropriately matching customized diet strategies to an individual's specific situation, personal preferences, and main goal.
This principle of specificity is established, and well understood and applied in the realm of Exercise Physiology, Strength & Conditioning, and Athletic Training. An athlete training for an MMA competition should not be training like a bodybuilder or cyclist. Coaches design science-based programs that help athletes reach their peak potential in the physiological demands of their sport.
This principle is equally important, but is much less understood and applied in the realm of diet, nutrition, and physique transformation; even by intelligent athletes and coaches. They wonder why their results fail to meet their expectations.
Irrational emotions take over when it comes to diet. But you need to look at your plan from a more analytical and objective perspective. We do this with both the big picture perspective and game plan, as well as all of the individual strategies, within this course.
OUR COURSE'S SOLUTION
1. We Apply the Principle of Specificity
What makes this course different? Why am I so confident that it will finally help you reach your fat loss and physique goals, and sustain them indefinitely?
Well, we apply that geeky and annoying, but critically important principle of specificity. That's why I referred to the course as a series of strategies vs. a set system. A system is cookie cutter (which only works in the cookie-making business). Strategies are customizable.
And who are these strategies for?
They are geared primarily towards intermediate or advanced trainees looking to achieve high-level physique goals. We're not trying to be everything to everyone. And perhaps looking at other programs in comparison, and their specific target demographics and goals, is a good way to further clarify who this course was really created and designed for…
(A) Physique Focused vs. Programs for The Sedentary & The Sickly
There are several diet approaches out there that do a great job of treating specific diseases and/or improving the overall health of sedentary populations. The Mediterranean Diet, The Blue Zones Diet, and The Paleo Diet come to mind as good examples in this category.
Simple diet template-based approaches to nutrition can work great for beginners. They filter through modern nutrition confusion, simplify the overcomplicated, and give people clearly defined, actionable steps to get started.
Reduce refined, processed, and packaged foods and emphasize more real, whole, natural foods from our cultural or evolutionary pasts. Quite frankly, common freaking' sense can take 90% of sedentary, overweight people 90% of the way.
But an athlete or physique enthusiast with higher-level goals needs to get much more committed, disciplined, and specific, and look at their nutrition program through an additional lens. Kicking it with cavemen or our cultural ancestors is not the same thing as crushing the modern competition.
Improving biomarkers of health and losing some weight is great, but getting ripped is a whole different ball game baby. It's no different than the fact that getting out of debt is one thing, but getting rich is something else entirely.
If we want to look lean year-round when we strip down to our board shorts or bikini, we need to take off our bifocals and look at the situation through a more detailed and precise filter – Exercise Physiology & Sports Nutrition.
Cavemen were eating simply to survive. Our grandparents were just eating for basic physiological needs and to avoid disease (and these days for food reward, which is a major problem).
Modern physique athletes and enthusiasts are eating for much more than just the fulfillment of the general life cycle. They are trying to use their diet to reach the pinnacle of physique development, and "get ripped". And don't tell me you don't want a 6-pack. Yes you do.
The problem with some of these one-size-fits all food template approaches to nutrition is that they just don't account for variances in activity levels, individual metabolic factors, and the differences between average and elite physique goals.
Physique-focused training creates a unique metabolic environment, an altered physiological state, and changes the way your body processes nutrients both during activity, and for up to 48 hours after completion of a training session. If you exercise intensely 2 or more days a week, than your body is virtually in a recovery mode 100% of the time. It is in an altered physiological state beyond pure resting conditions 100% of the time, thus its nutritional needs are completely different than sedentary populations.
What often happens with food template-based approaches to nutrition are mismatched diet and training protocols. This can be a disaster. Maybe you've experienced this yourself.
I know this situation well because I suffered through it myself. And trust me, no 6-pack is worth chronic fatigue, poor cognitive function, and a non-functioning wiener. It wasn't until I got back into Sports Nutrition research, understood demographic distinctions, and dug into the diet numbers, that I found a better way, one that I want to share with you in this course.
Throughout various lessons, we make targeted adjustments to both food choices and nutrition numbers based on your training program and elite, beach physique goals.
(B) Physique Focused vs. Performance Sports Nutrition
And what about a pure Sports Nutrition-based approaches?
Some athletes are sponsored by soda companies and chocolate milk, eat fast food and other crap all day, and still perform at elite levels. Well, please keep this in mind – training and eating to improve performance is different than training and eating to improve appearance.
You CAN perform well on a crappy diet. There is no arguing that from some of the shit lists I've looked at in my lifetime. So you may be lifting heavy and getting stronger or getting better at your running times or totals performing cross-training drills, etc., but are you looking the way you want or should, given all of that hardcore training -- shredded, ripped, lean, tone, tight, or whatever?
There are a few genetic outliers who might be able to get away with "garbage disposaling" down whatever they want and still look great. But most of us with average genetics will need to find a more informed way to reach our physique goals.
You also need to understand this important distinction -- The needs and goals of PERFORMANCE athletes are different than those of PHYSIQUE enthusiasts.
The primary goal for most competitive athletes is to perform at the highest level. Since carbohydrates are the fuel for high-intensity exercise, most Sports Nutrition diet plans focus on carbohydrates first. Most research focuses on the optimum amounts to keep liver and muscle glycogen at near full levels to maximize performance – both during training and competition.
The training of performance-based athletes tends to be higher in duration and frequency -- they may train 2-4 hours a day, sometimes twice a day. This is unnecessary for physique development. A solid hypertrophy routine for natural physique athletes consists of 3-4, 30-60 minute strength-training workouts a week.
So performance athletes generally have much higher calorie and carbohydrate demands than physique athletes and enthusiasts.
In addition, the goal of achieving high levels of performance is much different than that of achieving low levels of body fat. A little body fat is acceptable to the performance athlete as long they are performing at optimal levels. In fact, getting too low in body fat at some point can hinder performance.
Body fat is not acceptable to the physique athlete. The physique athlete is willing to sacrifice some performance output in order to attain the lowest levels of body fat and maximum leanness.
And what's the main goal of your fitness program? Do you want to have to be able to perform a bunch of drills to prove that you workout? Or do you want to be able to simply take your shirt off, pants off, or walk around naked and show the private or public audience that you do?
In terms of program specificity, most physique "peeps" likely need to find the middle ground between the very low carbohydrate diet recommendations for the sedentary and the very high carbohydrate diet recommendations for performance athletes. We get you to that starting assessment point in our course.
(C) The "Natural" Way vs. Drug-Enhanced Plans
There are plenty of bodybuilders and fitness models that look great on the outside, but are train wrecks internally.
They are dealing with side effects such as depression, suicidal tendencies, anxiety, elevated disease risk factors, digestive disorders, sleep disturbances, and a lack of natural hormone production and metabolic control as a result of performance enhancing drug usage, recreational drug usage, and pharmaceutical drugs to combat medical symptoms.
Most of this is just swept under the rug to sell supplements, magazines, and online coaching programs. And these dudes and divas are often dishing out dietary advice on websites and social media profiles -- "just eat tilapia, broccoli, the latest protein powder, and train hard core". Sure thing boss.
I hope you have an IQ greater than the lowly sea otter. I at least hope that's really not the route you want to take to reach your elite physique goals. No 6-pack is worth that bat shit craziness.
Even if you don't care about your physical and mental health, there is program specificity to consider. Here's what someone set on doing it naturally needs to know.
Physique-enhancing drugs (steroids/testosterone/TRT, growth hormone, thyroid hormone, anti-estrogens, EPO, etc.) completely change the physiological game.
From a technical perspective, steroids artificially elevate protein synthesis and anabolic processes. Thyroid meds can increase the metabolic rate and fat burning activity.
This means someone taking outside sources of these hormones can push their training and diet to the extremes without negative side effects (at least in the short-term).
For example, it doesn't matter if too high of a training frequency and duration combined with too low of a calorie or carbohydrate intake is chronically elevating cortisol and adrenaline while destroying your natural testosterone and thyroid production, IF you are jacking those up to supra-physiological levels with drugs.
The net of all of that nonsense is that you can admire the physiques of enhanced athletes, and learn a few things from them, but you shouldn't necessarily try to follow their specific programs.
Pushing to the extreme ends of the training/diet spectrum is not a wise choice for the natural athlete. It will likely just leave you physically and mentally burned out, hormonally and metabolically broken, frustrated with your lack of physique progress, and with an environment that is primed for huge rebound weight gain.
We teach you a healthier, more informed, and more sustainable approach in the course.
Now don't get me wrong, I still expect you to achieve amazing and awesome physique goals.
On the opposite end of the diet advice spectrum, you have the fitness industry people who followed some type of uninformed and extreme plan to get into elite shape for a competition, photo shoot, or just a personal challenge; but totally jacked up their physical, hormonal, mental, and metabolic health along the way.
They were miserable, their career and social life suffered, and obviously they could not sustain those results as a long-term lifestyle plan. When they came off the extreme protocol, they drastically rebounded and ended up out of shape and overweight.
The problem for YOU is that many of them also ended up bitter that they lacked the ability to find a better way. Just because they went about the physique transformation process in the wrong way, they assume that everyone does (because most people just share what they've done without a broad perspective of a variety of diverse paths).
The backlash is that these "fitness professionals" bash anyone who pursues or attains higher-level physique goals. To maintain a position in the fitness industry, they proclaim everyone must become a flabby functional trainer or a fat powerlifter.
They assume anyone with a decent physique must be using drugs or an extreme protocol, and proclaim that you can't be in elite shape if you are going to be happy and healthy.
That's total bullshit my physique friend. There are more informed methods, and I hope to teach these to you within this course.
I know I'm talking a lot of crap right now. First off, it is all in good fun, so lighten up.
Second, and more importantly, the ulterior motive is not to be a dick. Earlier in my career as both an athlete and a coach, I followed the wrong people and made a lot of the above mistakes myself.
So I wanted to point out some of the potential stumbling blocks you may have hit, or wrong turns you may have made in the past, teach you there is a more targeted way, convince you that having that body you envision for yourself IS possible, and ultimately help YOU reach YOUR goals.